Three SCS Researchers Named AI2050 Early Career Fellows
Wednesday, May 31, 2023 - by Kayla Papakie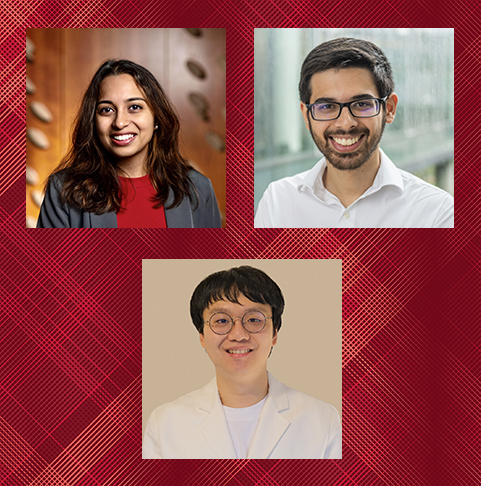 Three School of Computer Science researchers were named to the inaugural cohort of Schmidt Futures' AI2050 Early Career Fellowship to pursue ambitious research in artificial intelligence.
Aditi Raghunathan, Bryan Wilder and Huan Zhang were among 15 scholars selected in a cohort representing 10 universities and one national laboratory. The AI2050 initiative aims to support exceptional individuals working on the key opportunities and hard problems that are critical to get right for society to benefit from AI, such as increasing the technical capabilities of AI and deploying it responsibly.
A philanthropic initiative of Eric and Wendy Schmidt, Schmidt Futures has pledged up to $4 million to support this inaugural cohort of Early Career Fellows.
"We must all ensure that AI is not created in isolation, and accordingly, pay attention to both its potential benefits and risks," said Eric Schmidt, co-founder of Schmidt Futures, AI2050 co-chair and a former CEO of Google. "AI will transform our lives and futures, so the time is right to bet on these experts working to find the best ways to develop AI which can advance scientific progress, earn public trust and deliver benefits for all."
Raghunathan, an assistant professor in the Computer Science Department (CSD), studies ways to make machine learning more reliable and robust, leveraging tools and concepts from statistics, convex optimization and algorithms to improve modern systems based on deep learning.
Wilder, an assistant professor in the Machine Learning Department, explores AI for equitable and data-driven decision making in high-stakes social settings, motivated by public health applications such as HIV prevention and maternal and child health.
Zhang, a postdoctoral researcher in in the Computer Science Department (CSD), focuses his research on trustworthy machine learning and ways to apply verification techniques to neural networks and other machine learning models.
"For AI to be beneficial to society, we must accelerate progress on the hardest problems in the field," said AI2050 Co-Chair James Manyika. "We hope the research progress of this group of exceptional, multidisciplinary scholars inspires new ideas within the global AI community; enables breakthroughs; and ensures a future in which we all benefit from this promising technology."
Fellows are eligible to receive up to $300,000 over two years to pursue specific research projects and will have access to Schmidt Futures' network and other non-monetary support to advance their work. More information about AI2050 is available on the AI2050 website.
For more information, Contact:
Aaron Aupperlee | 412-268-9068 | aaupperlee@cmu.edu