Items for CSD News and Announcements
Send information about awards & funding, research projects and other noteworthy items to be announced to:
Unsure if it is news/announcement worthy? Send it and we will check in with you to determine where the info fits.
Are you on social media? Let us know so the department can connect or follow!
Email your social media info to: csd-marcom-info@cs.cmu.edu
Or connect with CSD: Twitter | LinkedIn | Facebook
CSD Marketing Brand Standards Reference
Department branding follows university guidelines very closely. We use an approved unitmark, which was created by university marketing, along with our logo to help distinguish the department within the school and university branding structure.
If you have any questions about department marketing & communications please email:
csd-marcom-info@cs.cmu.edu
Department logo with unitmark in horizontal and block (vertical use) formats
Note: There is a color difference for print versus web. If you have questions about which files to use please use the email above and we will help you find the correct files for your use.
Branded template files:
Presentation Templates are being updated and will be posted when completed
If a file you need isn't linked here yet, please use the csd-marcom-info@cs.cmu.edu email to request specific image types or files with appropriate branding. Turnaround time is usually within 12-24 hours.
PLEASE do not make separate directories to share these files. Bookmark and refer back to this page to download files so you have the most recent files available.
You can bookmark or save the link to the CMU Box download directory to be certain you will have access to the latest versions when they are made available. Downloads will be made available to the CMU community (and will require authentication).
Any external requests should be sent to csd-marcom-info@cs.cmu.edu and we will determine the appropriate image/file to provide.
Department Logo with Unitmark Use Guidance
Whenever reasonable, the horizontal version of the logo-unitmark combination should be used for department branding.

For items like mugs or other items that can't effectively accommodate the longer horizontal you can use the block/vertical format that will fit the space better.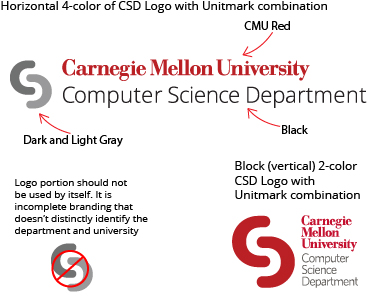 Department Door Labels:
---
Example Label Layouts:

STAFF OFFICE Request Form | FACULTY OFFICE Request Form | STUDENT OFFICE Request Form
---
School of Computer Science Marketing and Communications
https://www.cs.cmu.edu/scs-media-kit-press-contacts
---
Carnegie Mellon University Marketing Brand Standards Reference
If you are not familiar with what the university has developed please take time to look at their site to see what they provide and what their guidelines are:
CMU Marketing & Communications Brand Standards
University style guides cover:
Brand
Web
Writing
Social Media
Merchandise
NOTE: There is also a link on this page to trademarks and licensing policies that you should be aware of before using images or wordmarks or unitmarks on websites, branded items, or providing university logos/graphics to a third party (such as a sponsor of a conference, etc.).
University Logos, Colors and Type
https://www.cmu.edu/marcom/brand-standards/logos-colors-type.html
The Carnegie Mellon University visual identity creates a widely recognized image of the university brand.
It is critical that the university adopts a consistent use of Carnegie Mellon's official wordmark, colors and typography to enhance global visibility and reputation.
Marketing & Communications is responsible for the creation and stewardship of our visual brand. For any suggestions or comments, please contact them at 412-268-6963, or email them.
https://www.cmu.edu/marcom/brand-standards/logos-colors-type.html University downloads can be found here: https://www.cmu.edu/marcom/brand-standards/downloads/index.html (authentication required)
Typography
Open Sans
Open Sans is the preferred typeface of Carnegie Mellon University. Optimized for print, web, and mobile interfaces with excellent legibility characteristics, Open Sans is free for all mediums and performs well on both Windows and Macintosh Operating Systems.
Additional typography guidance is available on the university marketing & communications pages.
Colors
https://www.cmu.edu/brand/brand-guidelines/visual-identity/colors.html
---
Last page update: Wednesday, April 27, 2022