SCS Faculty Receive More Than $1.6M in NSF CAREER Awards
Tuesday, July 26, 2022 - by Full Stack Engineer - Technology for Effective and Efficient Learning (TEEL) Lab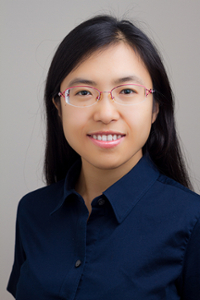 Three Carnegie Mellon University researchers in the School of Computer Science recently earned Faculty Early Career Development Program (CAREER) awards from the National Science Foundation. The awards are the foundation's most prestigious for young faculty researchers.
Weina Wang
An assistant professor in the Computer Science and Electrical and Computer Engineering departments, Weina Wang received $500,000 to develop algorithms that guarantee ultra-low latency in edge computing, which supports emerging applications such as autonomous driving, augmented reality and automated mobile robots. This work will establish algorithms to optimize the time it takes for data to travel from one point to another and for the corresponding computation to be done without lag, even with a high volume of users in those systems.
In addition to this research, Wang will also use the grant to continue expanding STEM outreach activities for K-12 students — mentoring students from underrepresented groups, promoting the visibility of researchers from underrepresented groups and initiating online outreach seminars for the general public.
Virginia Smith
Virginia Smith, an assistant professor in the Machine Learning Department, received nearly $600,000 to establish and study the use of federated multitask learning. A method for training machine learning models, federated learning operates on user data and networks of devices such as mobile phones, wearables and smart homes. Because of this, the training methods developed must be trustworthy and address concerns such as user privacy, fairness and robustness.
Smith's research will explore multitask learning — a technique that uses separate but related models to train each device in the network — as a way to both address the constraints of practical federated systems and demonstrate that they can be trained in a trustworthy manner. Her work has the potential to create a paradigm shift in the way these learning systems are designed, implemented and analyzed.
Eni Halilaj
Eni Halilaj, an assistant professor of mechanical engineering with a courtesy appointment in the Robotics Institute, received more than $560,000 to study musculoskeletal modeling with wearable sensors and smartphone cameras. Halilaj's research seeks to make gait analysis — the assessment of how the body moves, usually by running or walking — more accessible for rehabilitation research and therapy monitoring. Her work will merge the complementary strengths of artificial intelligence and physics-based modeling into new motion-tracking systems that are low-cost, dynamically robust and equitably accurate across human demographics and abilities. The research will also create youth outreach programs to educate and inspire the next generation of biomechanical researchers and engineers.
For more information about the NSF CAREER awards, visit the foundation's funding website.
For more information, Contact:
Aaron Aupperlee | 412-268-9068 | aaupperlee@cmu.edu