Platzer Selected for Alexander von Humboldt Professorship for Artificial Intelligence
SCS Professor Will Head Institute for the Reliability of Autonomous Dynamical Systems at Karlsruhe Institute of Technology
Wednesday, June 1, 2022 - by Aaron Aupperlee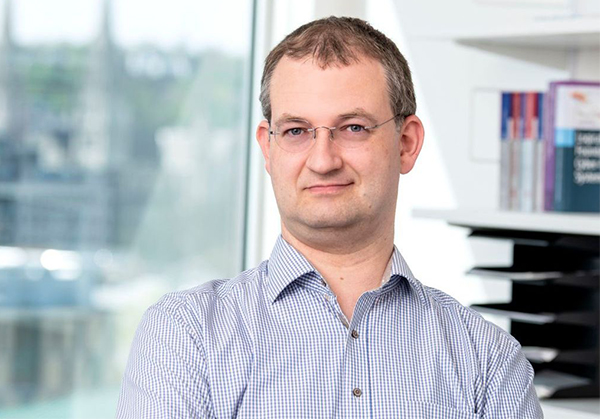 Computer systems increasingly manage and control networks such as the trains crisscrossing a country or the planes taking off and landing at an airport. Failures in these systems not only disrupt critical infrastructure but can also put people's lives at risk.
Carnegie Mellon University's Andre Platzer, a professor in the School of Computer Science, focuses on ensuring these systems make the correct decisions to optimize performance, robustness and safety. He wants to make computer assistance systems so safe that people can trust them with their lives.
For his work in this area, Platzer has been named an Alexander von Humboldt Professor for Artificial Intelligence at the Karlsruhe Institute of Technology (KIT) in Germany. The professorship, Germany's most valuable international research award, has an endowment of up to 5 million euros and is awarded by the Alexander Humboldt Foundation and financed by Germany's Federal Ministry of Education and Research. Platzer will head the Institute for the Reliability of Autonomous Dynamical Systems at KIT and continue to work with CMU.
A machine makes decisions based on logical conclusions it has been taught. Platzer has developed methods that allow systems to be analyzed and checked to verify that they are making these decisions correctly. He created the open-source tool KeYmaera X to test the correctness of a system's conclusions and provide proof that the decisions are sound. Platzer has also collaborated with government and industries such as Bosch, Siemens and Toyota to improve the safety of cyber-physical systems used in rail networks, air traffic and medical robotics.
Platzer, who has appointments in CMU's Computer Science and Electrical and Computer Engineering departments and the Robotics Institute, earned his Ph.D. in computer science from the University of Oldenburg in 2008 and has since been faculty at CMU. He has served as a visiting professor at Cornell University and conducted research as a Humboldt Fellow and DFG Mecator Fellow at the Technical University of Munich. Platzer was named one of the 10 best young scientists in artificial intelligence by Popular Science and IEEE Intelligent Systems magazine.
Read more about the Alexander von Humboldt professorship and Platzer's work on the foundation's website.
For more information, Contact:
Aaron Aupperlee | 412-268-9068 | aaupperlee@cmu.edu