Pawn to Queen Four: CMU Celebrates 50 Years of Speech Research
Friday, October 28, 2022 - by Aaron Aupperlee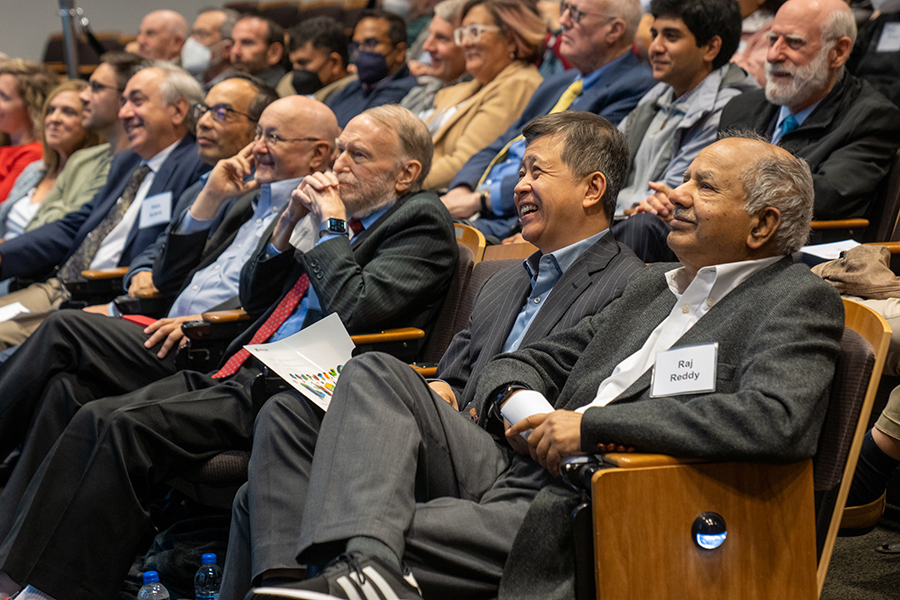 Talking to computers is the norm these days, from digital assistants in smartphones and smart devices to translation applications that break down language barriers. But 50 years ago, when Carnegie Mellon University began its work in speech understanding, all that was a pipe dream.
The university recently gathered to celebrate five decades of research that enables people to talk to computers and — more importantly — computers to understand their speech at the P2Q4 Symposium.
"What started here 50 years ago changed the way we interact with computers," said Raj Reddy (HON 2022), a founder of the speech recognition research efforts at CMU and the Moza Bint Nasser University Professor in the School of Computer Science. "Generations of innovators in speech research have worked at Carnegie Mellon. It was fantastic to bring them together again and to interact with the new faculty and students pushing the boundaries of the field."
The symposium's name, P2Q4, refers to the first demonstration of a working speech understanding system. At CMU in 1972, Reddy, Lee Erman and Victor Lesser applied speech understanding to the task domain of voice chess against a computer. In the demo, Erman speaks "pawn to queen four," stating his move. The computer analyzes this request and confirms that it heard it correctly. The computer then speaks its move. This demo was recorded as part of the 1973 Hearsay video.
The early speech recognition systems were developed during a five-year, multi-institution research project supported by the Defense Advanced Research Projects Agency (DARPA). By the end of the program, CMU's Harpy and Hearsay systems not only satisfied the original goals but also exceeded some of them. This work laid the foundation that placed CMU at the forefront of speech understanding research. Many of today's speech technology leaders at Apple, Microsoft and other companies got their start at CMU.
The symposium, held Oct. 14, brought together multiple generations of researchers, from those who worked on the earliest technologies to those currently working and leading in the field. It culminated with the Raj Reddy AI Lecture on the impact of speech research at CMU. This year's lecture was a panel discussion featuring "rockstars" of computer speech understanding over the decades. Chaired by Harry Shum (SCS 1996) and Hsiaso-Wuen Hon (SCS 1992), it featured Alex Acero (ENG 1990), Janet Baker (MCS 1975), Jim Baker (MCS 1975), Kai-Fu Lee (MCS 1988), Xuedong Huang and Alex Waibel (ENG 1981, MCS 1986).
Learn more about the symposium on its website.
For more information, Contact:
Aaron Aupperlee | 412-268-9068 | aaupperlee@cmu.edu