Cranor, Stehlik Named University Professors
Friday, April 28, 2023 - by Christa Cardone and Kristen Bayley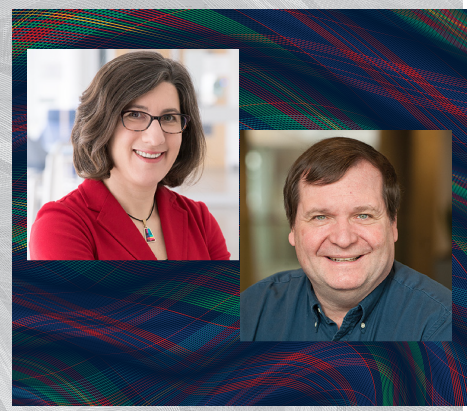 School of Computer Science faculty members Lorrie Faith Cranor and Mark Stehlik have been elevated to the rank of University Professor, the highest distinction a faculty member can receive at Carnegie Mellon University.
"University Professors are individuals who embody the mission of CMU through their contributions to education and research, as well as their strong commitment to the community," said Provost and Chief Academic Officer James H. Garrett Jr. "This year, we were pleased to identify five individuals who demonstrate this high standard every day as educators and leaders at the university."
Cranor and Stehlik join colleagues Burcu Akinci, Greg Lowry and Michael Tarr in the 2023 cohort of University Professors. Stehlik also becomes the first teaching-track faculty member to be elevated to University Professor.
Distinguished by international recognition and for their contributions to education, artistic creativity and/or research, University Professors exemplify a high level of achievement and commitment to the university and the broader academic communities.
Lorrie Faith Cranor
Cranor is the director and Bosch Distinguished Professor in Security and Privacy Technologies of CyLab and the FORE Systems Professor of Computer Science and of Engineering and Public Policy. She co-founded and co-directs the world's first privacy engineering master's program and was a founding co-director of the Collaboratory Against Hate: Research and Action Center. 
Cranor's research focuses on usable privacy and security with contributions in a variety of areas, including antiphishing technologies, usable and secure password policies, privacy "nutrition" labels, and tools to make it easier for people to protect their privacy and security. She founded the Symposium on Usable Privacy and Security and co-founded the Conference on Privacy Engineering Practice and Respect.
Cranor has been named a fellow of the Association for Computing Machinery (ACM), the Institute of Electrical and Electronics Engineers and the American Association for the Advancement of Science. She's also an Andrew Carnegie Fellow and a member of the ACM CHI Academy. Cranor received the 2022 CMU Distinguished Professor of Engineering Award, the 2018 ACM CHI Social Impact Award and the 2018 International Association of Privacy Professionals Privacy Leadership Award. She earned the IEEE Cybersecurity Award for Practice with colleagues in 2018 and the 2019 Allen Newell Award for Research Excellence.
In 2016, Cranor served as chief technologist at the U.S. Federal Trade Commission. She also co-founded Wombat Security Technologies Inc., a security awareness training company that was acquired by Proofpoint. Prior to joining the CMU faculty in 2003, Cranor was a researcher at AT&T Labs and taught in New York University's Stern School of Business. She holds a Ph.D. in engineering and policy from Washington University in St. Louis. In 2012 and 2013, she spent her sabbatical as a fellow in the Frank-Ratchye STUDIO for Creative Inquiry, where she worked on fiber arts projects, including a quilted visualization of bad passwords that was featured in Science and a bad passwords dress that she frequently wears when talking about her research.
Mark Stehlik
Stehlik is the director of the Computer Science (CS) undergraduate program and assistant dean of outreach in SCS.
Stehlik joined CMU as a computer science Ph.D. student in 1979 and began teaching in 1982. He is one of the few administrative faculty members who have been involved in the CS undergraduate program since its creation in 1988. One of the key factors of SCS's success, Stehlik said, was that CMU already had one of the best Ph.D. programs in computer science when it launched its undergraduate program.
As assistant dean of SCS, Stehlik works to both strengthen its programs and to attract and support students. He co-founded CMU CS Academy, a free computer science curriculum that has been used by more than 250,000 high school students since its launch in 2018. As an adviser, he has shepherded more than 3,500 students through the undergraduate computer science program.
Stehlik received CMU's Robert E. Doherty Award for Sustained Contributions to Excellence in Education, the CMU Outstanding Contributions to Academic Advising and Mentoring Award, the Mark Gelfand Award for Educational Outreach and the SCS Herbert A. Simon Award for Teaching Excellence.
For more about this year's University Professors, read the full story on the CMU News website.
For more information, Contact:
Aaron Aupperlee | 412-268-9068 | aaupperlee@cmu.edu