CMU Professors Awarded NSF Future of Work Grant
Funds Will Support AI-Augmented Learning Technologies in Community College IT Courses
Monday, November 21, 2022 - by Aaron Aupperlee and Heinz College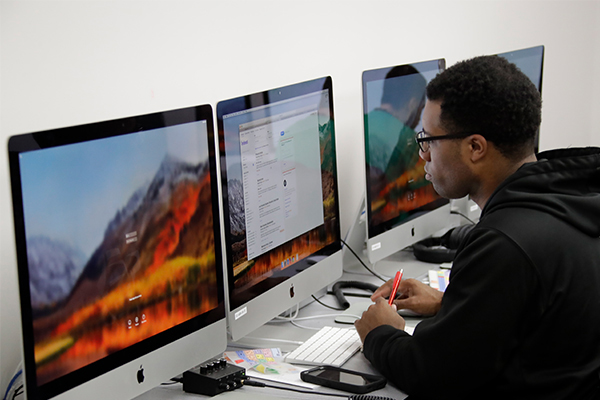 Carnegie Mellon University (CMU) has announced that a team of professors from the School of Computer Science (SCS) and the Heinz College of Information Systems, Public Policy and Management has received one of 14 Future of Work grants from the U.S. National Science Foundation.
The grant, designed to increase opportunities for U.S. workers and generate positive societal and economic impacts both locally and nationally, will fund a project that will investigate how AI-augmented learning can help accelerate student progress in community college information technology (IT) courses.
"We are thrilled to receive the generous support of the National Science Foundation for our project," said Lee Branstetter, a professor of economics and public policy at Heinz College who will lead the project. "The digital economy is a source of opportunity, but most IT jobs are open only to workers with a university degree, leaving jobs unfilled and employees locked out of jobs for which they have the right aptitude but not the right degree. This grant will allow us to address worker shortages while creating cost-effective accessible pathways to living wage digital economy jobs for workers who previously lacked those opportunities."
The project team will work with the Community College of Allegheny County (CCAC) to investigate how a framework developed by learning scientists can be used to align knowledge components in the community college's IT courses with the most effective AI-driven educational technologies to enhance and accelerate learning.
"We are excited to be part of an effort that can provide pathways to family-sustaining careers by making more comprehensive technical education accessible to our students. This grant will enable CCAC and our team to develop a curriculum for a more diverse population of students who wish to pursue careers in technology," said Michael Rinsem, endowed professor of technical curriculum for CCAC. "By addressing challenging technical topics and making relevant content more accessible, we hope to provide the region with a well-trained workforce, positioning Pittsburgh as the leader in technological fields for years to come."
The project team of "A New Bridge to the Digital Economy: Integrated AI-Augmented Learning and Collaboration" includes SCS faculty members Carolyn Rose, Majd Sakr, Lauren Herckis and Bruce McLaren. The SCS team will use not only decades of research into computer- and technology-assisted learning science but also the latest developments in the field to enhance lessons. The team will work with the IT programs at CCAC to integrate AI-driven educational technologies such as intelligent tutoring systems and computer-supported collaborative learning.
"This project will break new ground in learning science by using an established theoretical framework to match the curricular components in IT courses with the most effective AI-driven educational technologies to support student learning," said Rose, the interim director of and a professor in the Language Technologies Institute. "We are excited to work with CCAC to use the latest advancements in artificial intelligence and learning science to help accelerate the future of work."
For more information, Contact:
Aaron Aupperlee | 412-268-9068 | aaupperlee@cmu.edu